"I remember that the Gabilan Mountains to the east of the valley were
light gay mountains full of sun and loveliness, and a kind of invitation,
so that you wanted to climb into their warm foothills almost
as you want to climb into the lap of a beloved mother."
- John Steinbeck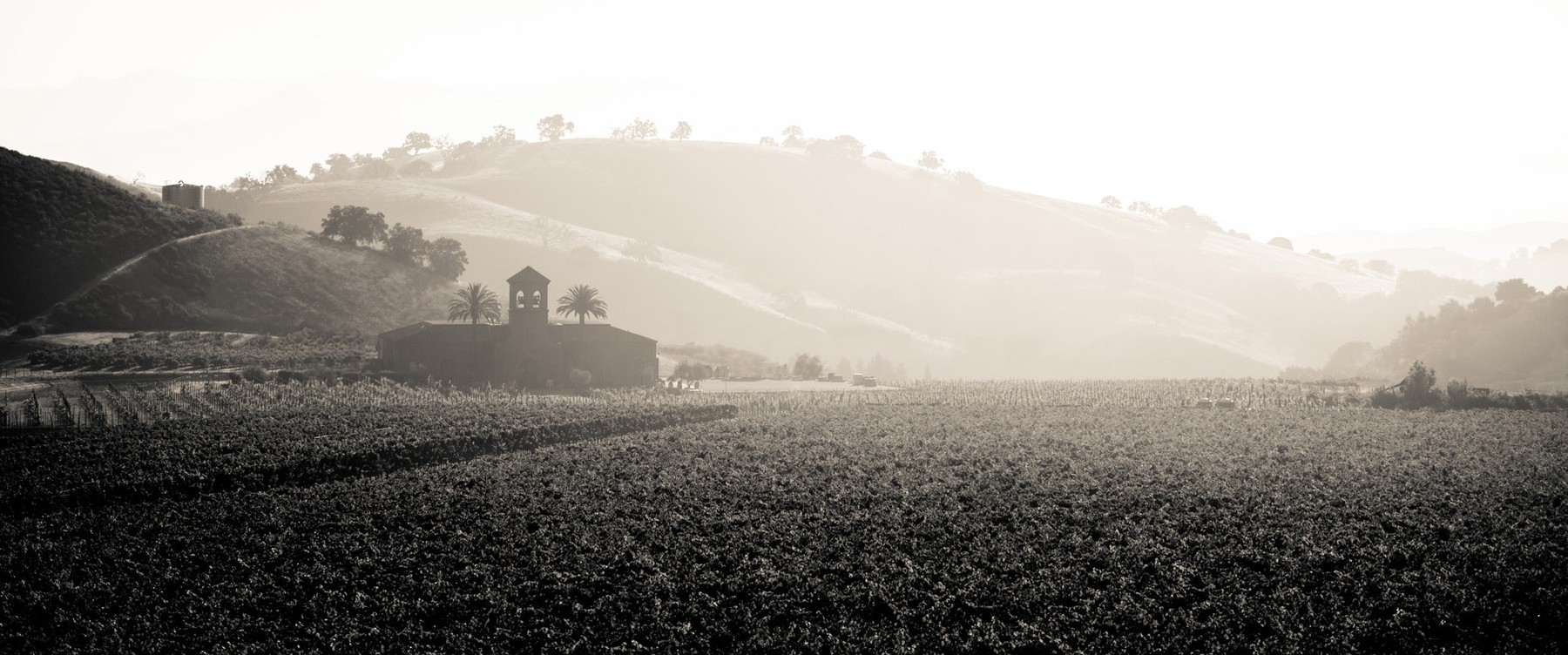 History
The land known today as Eden Rift has been under vine since 1849. For well over a century, these limestone- and dolomite-rich soils have passed through the hands of fearless pioneers, each with their own bold viticultural obsessions.
In 1830, a French wine merchant, Theophile Vache, came to the United States from Bordeaux by way of Cape Horn. In 1849, while California was still under the Mexican flag, he ventured from Monterey to the Cienga Valley and planted a small vineyard on this site. In 1883, Vache's neighbor, William Palmtag, then the mayor of Hollister, bought the estate from Vache and, under the name, Palmtag Mountain Vineyards, elevated the wines being made there; so much so that his wines swept fine wine categories in both national and international wine competitions of the day.
By 1906, under the dual ownership of Captain Jules Jacques St. Hubert, a winemaker, and a Chicago grain broker named John Dickinson, the estate was transformed further when Dickinson made a commitment to his homestead by adding a residence to the property. He hired Walter Burley Griffin, perhaps best known as the partner of Frank Lloyd Wright, to custom-design the Dickinson House, which today serves as the residence of Eden Rift proprietor, Christian Pillsbury.
Long fascinated by early California history, and, in particular, by the Prohibition-Era, Christian was in part drawn to this land by its rich, nuanced history. Among his private collection of early Cienga Valley artifacts are old labels and articles about the Valliant label, which for years thrived at this site under the stewardship of Hiram Walker, the international spirits house. The estate was later owned by the Gimellli family, Italian immigrants who brought to the estate a fanciful, "new country" aesthetic.
Prior to acquiring this estate, Christian and his team performed extensive research on the estate; the soils, aspects, diurnal swings, wind patterns, micro- and macro-climates of each block…and concluded that the calcareous, limestone rich soils would be best suited to pinot noir and chardonnay. A serious, unflinching winegrower, he has invested great emotional and financial resources to strengthen Eden Rift's place in the continuum of California's winemaking lineage. "This house, this land, has passed through various courageous, hard-working hands. It's daunting to walk lockstep through history with these earlier pioneers. I'm just keeping my head down, trying to restore this property and vineyard mindfully so that it can reveal all of its historic and natural glory."